News
The killer whales around Vancouver Island need our help to protect them from the effects of human activity. Ocean Sonics has stepped up to the challenge with its novel hydrophone network.
Ocean Sonics is excited to announce the release of the newest icListen HF Smart Hydrophone. The SC2-ETH follows the very popular SB2-ETH with its small size and smart electronics, setting the standard for smart digital hydrophones!
Key improvements: 
Low Power: Get longer deployments thanks to its lower power. Use as an Acoustic Recorder
Connect with 24 or 12 V: Use 24 V for best performance on longer cable runs. Short cables can use 12 V for highest battery efficiency
Large Memory: Double the data collected with the 256 GB internal memory. For even more memory, ask about the New Acoustic Digital Recorder.
Track Time Accurately even when the icListen is powered off. You can guarantee instrument time is accurate by connecting to your laptop, or to a GPS for Sync
Hydrodynamic Shape: Record higher quality data in flowing and turbulent water
Eliminate Electro Magnetic Noise from the power supply 'hum' even in challenging environments
Enjoy all the icListen features you currently enjoy and more. The SC2-ETH is fully compatible, and can be directly combined with other members of the icListen family.
Contact our Distributors or Ocean Sonics for pricing. Available for sale, September 2017.
The world's best digital hydrophone is about to get better and Ocean Sonics is celebrating by offering a promotional price on the icListen HF hydrophone until the end of September!
We are excited to offer the current model SB2-ETH (200m) and SB35-ETH (3500m) to users who want the performance of the world's best digital hydrophone at a great price.
All icListen Smart Hydrophones offer:
• Compact size and easy deployment
• The most sensitive broadband Acoustic Recorder
• Excellent self-noise for high definition recordings
• On-board data processing which reduces analysis time
• Ethernet link for real-time waveform or processed data
• High quality hydrophone arrays when synchronized by connecting together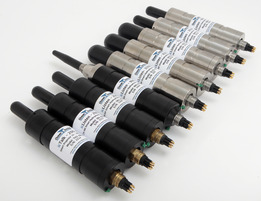 Contact Ocean Sonics or your local distributor to take advantage of this offer, while supplies last. Offer expires at the end of Sept 2017.
Ocean Sonics has long outgrown their cramped workspace in Great Village. It's full of too many people, and piled high with boxes of their award-winning icListen Smart Hydrophone.
Co-owner Desiree Stockerman, who manages sales operations and new business development for Ocean Sonics, says they made the huge decision to design a purpose-built facility in Truro ─ just off Hwy. 102 at Exit 13. Read more…
The Business Development Bank of Canada is loosening the purse strings to make an extra $100 million in financing available for Atlantic Canadian businesses in four industry sectors during the next two years.
In a bid to boost the information and communication technology, agri-food, ocean technology and tourism sectors, the Crown corporation responsible for helping Canadian businesses is upping its financing envelope for the next two years for those industries to $280 million.
"These sectors are areas that we feel have the greatest opportunity for growth," Michael Denham, the BDC's president and chief executive officer, said in an interview Thursday.
"What we're looking for are entrepreneurs who have solid businesses in place and who are looking for financing for equipment, marketing or to expand their sales force," he said.
Atlantic Canadian business owners are bullish these days. According to BDC surveys, 75 per cent of Atlantic Canadian entrepreneurs have indicated they expect to grow their revenues this year, up from only 42 per cent who said the same thing in 2016
That's a higher level of business confidence than in the rest of Canada.
And it's an optimism shared by Great Village-based Ocean Sonics owners Desirée Stockermans and Mark Wood.
Their five-year-old company, which developed a digital hydrophone that allows users to listen to underwater sounds in real time from the surface, have seen explosive growth. Digital hydrophones are used along coastlines to measure ocean sounds, including marine life and human activity like shipping, commercial and military activities which contribute to noise pollution.
In its first year of operation, Ocean Sonics doubled its sales volume. The following year, sales soared about another 50 per cent. And since then the company's revenues have roughly doubled again, said Stockermans, the company's operations manager, in an interview Thursday. Read more…
See what is happening at Valencia Oceanarium in their Arctic Aquarium with their
Ocean Sonics announces sale of 10 hydrophones in Canada, as well as a new U.S. West Coast distribution agreement
Video about the icListen Smart Hydrophone installed in a High traffic area in British Colombia.
Ocean Sonics, a Nova Scotia-based designer and manufacturer of digital hydrophones, expects to install its sensoring equipment in the following months for Cape Sharp Tidal project located in the Bay of Fundy, Nova Scotia.
As reported earlier, Cape Sharp Tidal, a joint venture formed by Emera and OpenHydro, aims to deploy two 2 MW tidal turbines that could power an estimated 1.000 homes in Nova Scotia, Canada, this fall. Read more…
This odd-looking fish with the armour-plated back and dangling whiskers, is listed as a threatened species in the Maritimes. There are two known spawning rivers in Canada — the St. John River in New Brunswick and the St. Lawrence River…Read More